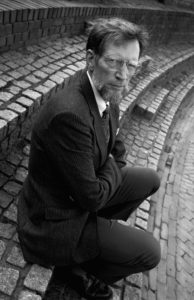 In 1986, Christian philosopher Alvin Plantinga presented a lecture entitled, "Two Dozen (Or So) Theistic Arguments." Given in a summer seminar on philosophy of religion in Bellingham, Washington, the ideas that Plantinga presented were both fascinating and profound. The message he shared spread far and wide.
Plantinga wrote 20 years later in an appendix to the notes from the speech, "My intention had always been to write a small book based on these arguments, with perhaps a chapter on each of the main kinds. Time has never permitted, however, and now the chances of my writing such a book are small and dwindling."
In 2017, Plantinga was awarded the prestigious Templeton Prize. He is credited for making theism, or belief in God, a plausible matter within the secular, academic philosophy community.
Dr. Jerry Walls, scholar-in-residence and professor of Philosophy at HBU, first heard Dr. Plantinga speak while Walls was a student in the Princeton Theological Seminary. Later, while Walls was earning his doctorate at The University of Notre Dame, he had the privilege to study with Plantinga, who was a professor there.
"He made an enormous impression upon me and my thinking in so many ways," Walls said. "He was my teacher and my personal hero; a first-rate philosopher and a man of courageous Christian integrity – somebody to emulate. In 'Two Dozen,' he basically says, 'You really don't need all these arguments for your belief in God to be fully rational,' but then gives this brilliant virtuoso performance and says, 'Here they are anyway.'"
In his eight years at HBU and before, Walls has been a prolific writer, known for engaging in complex issues like Calvinism, hell and purgatory. "I write about stuff that matters, pure and simple," Walls said. "I've never been interested in writing just for the sake of the academy. I tend to write about issues that are not being addressed."
Walls has maintained dynamic working relationships with fellow professors and with students – many of whom he's collaborated with on projects. One of Walls' students, Brian Marshall, gave Walls an idea that he hadn't thought about. What if he finished what Plantinga began by fleshing out Plantinga's ideas into a book?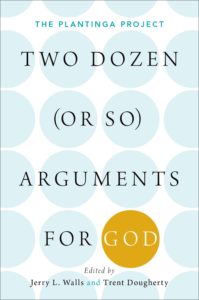 "It's one of those ideas that's so wonderful, you wonder why no one else has done it," Walls reflected. So began "The Plantinga Project: Two Dozen (Or So) Arguments for God," edited by Walls and Trent Dougherty.
The book features essays on each of Plantinga's theistic arguments, and a few additions, by some of the most respected scholars and apologists. Among the essayists are HBU professors Walls, Dr. Philip Tallon, Dr. William Lane Craig and Dr. Bruce Gordon.
Published by Oxford University Press in 2018, the compilation has something for everyone. "The book deals with some of the classical arguments that have been around for centuries – classic and novel," Walls said. "It's a diverse collection. The evidence for God is all over the place – in everything from beauty to logic. It's in lots of places that people haven't thought to look. It's definitely a book that I think a lot of people would enjoy and find worth reading."
Contributor Thoughts
A big part of my essay was on the argument from beauty, which is basically the argument that the beauty around us is evidence for God's existence. The great abundance of beauty in the world is much more likely on theism than atheism. In other words, we'd expect that a beautiful God would create a world with lots of beauty. There is lots of beauty all around us, so this is evidence for God."
–Dr. Philip Tallon; HBU Chair of Apologetics and Assistant Professor of Theology
"Contributing to a collection honoring Alvin Plantinga's work meant a lot to me because Al served as an external advisor for my doctoral work years ago, and the essay I contributed was an outgrowth of that. Al's treatment of modal metaphysics has been important in my ongoing project evaluating the implications of nature's causal-ontological incompleteness at the quantum level for the possibility and necessity of unmediated divine action, a theme that runs through much of my work, and one that Al himself has recently explored."
–Dr. Bruce L. Gordon;  HBU Associate Professor of History and Philosophy of Science, and Scholar-in-Residence
"I dedicated my trilogy on God and time to Alvin Plantinga with these words: 'To Alvin Plantinga, who by his life and his work has shown us the way.' There is a double meaning to those words. On the one hand, he has modeled for us what it is to be a Christian philosopher. But he has also pointed us to him who said, 'I am the Way.' I am honored and grateful to be a part of this volume celebrating his work."
–Dr. William Lane Craig; HBU Professor of Philosophy