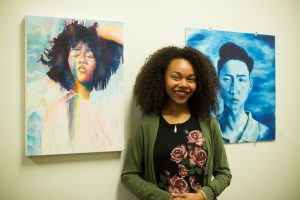 There were 10 Master of Fine Arts class of 2018 graduates who showcased their theses work in the Contemporary Art Gallery and throughout the halls of the University Academic Center this spring. Undergraduate BFA/BA students showcased their work as well. Jim Edwards, HBU artist-in-residence and director of the HBU Contemporary Art Gallery, noted the diversity of the art piece styles and subjects. From realist to surrealist drawings and paintings, to wooden and metal craftsman pieces, each art item reflected its creator's imagination.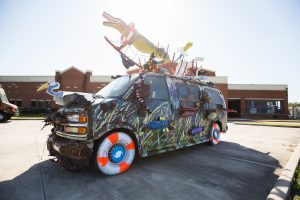 Kingsley Onyeiwu, whose portraits lined the UAC entrance, said, "HBU has been a turning point in my life. It's been a great opportunity, and I've built relationships with people from all walks of life."
Edwards described the students' caliber of work. "This exhibition offers proof of the high standards these artists have achieved while also celebrating their individual talents," he said. "As they leave the Houston Baptist University Master of Fine Arts program, these 10 artists take with them their unique artistic visions and their success as visual artists. We thank them for helping to enrich our lives through art."
MFA Class of 2018
•Shannon Alexander
•Emily Burgess
•Kathy Bilyeu
•Barry Carter
•James Klein
•Michael Leanes
•Juan Mejia
•Kathryn Nosenzo
•Kingsley Onyeiwu
•Fereshteh Solati
Learn more at HBU School of Fine Arts.