Before the inclement weather arrived, I managed to see two excellent films: "Hostiles" and "The Post."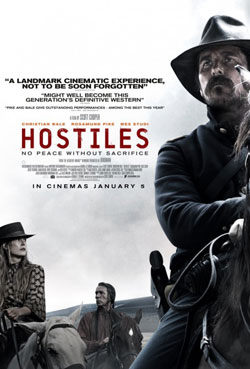 "Hostiles" reminds me very much of John Ford at his best. I am not familiar with other films directed by Scott Cooper, but this one impressed me. The plot and setting remind me of Ford's "The Searchers," and some critics have compared the film to Clint Eastwood's "The Unforgiven."
The cast is excellent; Christian Bale does very well as the aging cavalry officer assigned to escort a dying Indian chief from a prison in New Mexico to his tribal grounds in Montana. There is a long history of hatred and violence  between Bales's character and the old chief. Wes Studi does well as the chief, and Rosamund Pike has one of her better roles. I would suggest seeing the film in the theater because of the landscape.
"The Post" is Steven Spielberg's version of the Pentagon Papers crisis of the early 1970s. Meryl Streep is excellent as Katharine Graham, owner of The Washington Post, and should receive an Oscar nomination. Tom Hanks also is good as Ben Bradlee, editor of The Post. I think Jason Robards may have been slightly better as Bradlee in "All the President's Men," but Hanks's performance is formidable.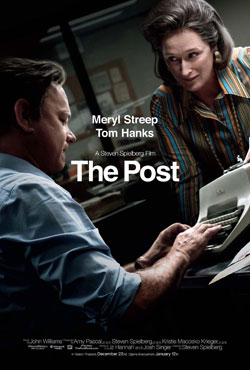 I remember the original crisis, but the film provides several facts about which I was unaware, particularly about Graham's reluctance to publish the explosive documents. I had never known that Mrs. Graham was a close personal friend of Robert McNamara, and that she did not want to damage him. It is obvious that I need to do some reading on the episode.
The younger generation will be totally baffled by Spielberg's depiction of printing technology, but he makes good use of typesetting, rolling presses, etc., as a visual metaphor for the freedom of the press.
Both films are excellent and timely.