People often ask me which books have most influenced my life. If I am more candid than usual, I have to include a tattered 1947 issue of
"Comic Cavalcade."
I don't remember the name of the family my parents were visiting, but one of the kids gave me a very thick comic book that was missing the cover and the first three pages. I have never been able to replace that book; my income would never be able to absorb the cost, and there are almost no copies on the open market. I still remember every story in the book, and I particularly remember an advertisement for another comic book.
My parents did not approve of anything but Disney comic books at that stage of my life (5 or 6 years old), so I might not have come across such characters as Wonder Woman, Flash and Green Lantern for several more years.
"Comic Cavalcade"
was an anthology title in which DC would feature separate stories about several heroes at a time. The ad at the end of a story was for an issue of "
All-Star Comics
."
That was the title where several heroes appeared as the Justice Society of America
–
the forerunner of today's Justice League. To say that that ad fired my imagination would be the understatement of the year. The Justice Society faded away in 1951 before I ever bought a copy, but the Justice League first appeared in a 1959 issue of
"The Brave and the Bold."
I can safely say that I have been waiting 58 years to see a movie about those characters; it was worth the wait.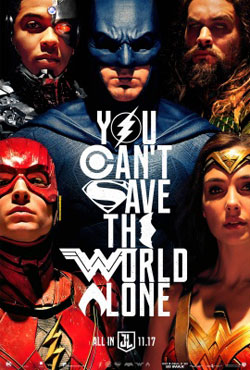 "Justice League"
begins where
"Batman versus Superman"
left off. The existence of Wonder Woman, Flash, Cyborg and Aquaman was mentioned in that film, and Wonder Woman has already had a very successful film about herself. I have to admit that Aquaman steals the show, but he is a far cry from the early comic book versions of that character. He will have his own film next year, so that may explain his prominence in this film.
I won't bother to mention the cast; this is strictly a special effects vehicle. At that level, it is very, very good. Stay for the closing credits; there are strong hints about the sequel which will involve Lex Luthor, Deathstroke and other members of the Injustice Society. By the way, several members of the original Justice Society have resurfaced in the television series "Legends of Tomorrow."