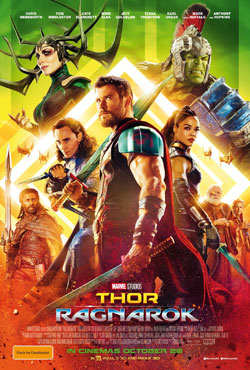 The weekend of November 4 marked the opening of the long-awaited, "Thor: Ragnarok," and I was more than happy to help celebrate the event. The film lives up to all the hyperbole even though it is much lighter than the first two films in the "Thor" trilogy.
One of the more anticipated sequences in the film is the battle between Thor and the Hulk. It is spectacular. I won't spoil anyone's enjoyment by revealing the outcome, but I will urge you to keep an eye on Loki, who has very good reason to stay far, far away from the Hulk.
The cast is good, but I don't agree with the way Jeff Goldblum handles the roll of the Grand Master; this is a far cry from the character in the original comic books.  Cate Blanchett steals every scene; she is Thor's very, very evil sister Hela, the goddess of death. Several millennia after Odin exiled her, she is angry – very angry – and won't be satisfied until she destroys Odin and his realm. This Norse apocalypse is spectacular to say the least, and does justice to the late Jack Kirby's original version.
My one quibble is the misuse of the word "Valkyrie," which is the German plural. The character named "Valkyrie" should have been named "Valkyor." I cringed when the character first appeared in the 1960s because of that ghastly error. There is an effective "ride of the Valkyrie" scene, but the producers wisely decided not to use Wagner's thunderous music.
I saw the 3-D version and relished every minute. Of course, there are two important scenes during the end credits.