The Houston Baptist University Alumni Relations Office is pleased to announce the 2017 Spirit of HBU Awards Dinner and Walk of Honor Induction, to be held at 4 p.m., Saturday, Oct. 7, in the McNair Hall of the Morris Cultural Arts Center, 7502 Fondren Road.
The annual event honors notable alumni, faculty, staff and friends of the University. HBU President Dr. Robert B. Sloan said, "These great people have invested their lives here, and continue to be assets to Houston Baptist University. Honoring them is our way of saying we appreciate you, and are proud of you."
2017 Spirit of HBU Award Recipients
Distinguished Alumnus Award Recipient:
The Honorable Joe Zimmerman, MBA '89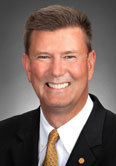 Mr. Zimmerman is the mayor of Sugar Land, a respected engineer and a frequent campus special guest.
Meritorious Service Award Recipient:
Debra Perich, '99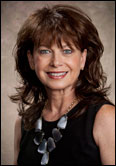 Ms. Perich served HBU as Guild President from 2012 to 2014, has chaired the Silver Tea Fundraiser for several years and continues to provide significant leadership to the Guild.
Hallmark Award Recipient:
Coach Theresa Fuqua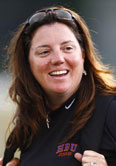 During her 10-year tenure as the head track and field and cross country coach of HBU, Ms. Fuqua has built a successful program and started the BacktheTrack campaign.
Emma Key Faithful Servant Award:
Julie Nguyen
Ms. Nguyen is an HBU senior and a mathematics major. As a resident assistant, she has been a faithful campus servant and a friend to many.
---
HBU Family of the Year Award:
The Penney Family
Dr. David and Nancy Penney and son Ryan Penney, '19
The Penneys have served in areas including University music, Student Life and the Guild.
The Tellepsen Family
Jennifer and Tadd Tellepsen, MBA '99
The Tellepsen family has partnered with HBU on the construction of venues including the Hodo Residence College and Husky Stadium. Tadd Tellepsen has served on the Alumni Board of Directors and the Board of Trustees.
Spirit of Excellence Gala Award Recipients 
Elizabeth and John W. Gibson, Junior, Spirit of Excellence Award 2016
Sue and Dr. Robert B. Sloan, Spirit of Excellence Award 2016
Mary Ann Belin, President's Award 2016
Linda Higginbotham, President's Award 2016
Dr. Stewart Morris, Founders Medal 2016
President's Award
Festus Amoye, '16
Christopher Atkins, '16
Nemil Bhatt, '17
Jessica Bird, '16
Morgan St. John, '16
Carlos Cruz, '16
Kelsi Hendrix, '17
Alanna Khubieh, '17
Michael Pearcey, '17
Thalia San Roman, '17
Abdi Sagastume, '17
Victoria Simms, '17
Christian Wiggins, '16
Opal Goolsby Professor of the Year
Dr. Christopher Hammons
Mayfield Outstanding Staff Award
J.R. Harris
Ritamarie Tauer, MACCT '85
2017 Athletics Hall of Honor Inductees
Sherill Hadrick, '07
Ms. Hadrick played on the women's basketball team from 2002 to 2006, earning All-America honors in 2004 and 2006.
Gene Iba
Mr. Iba was the head men's basketball coach of HBU from 1977 to 1985, leading the Huskies to their first-ever NCAA Tournament appearance in 1984.
Ulfar Jonsson
Mr. Jonsson played for the men's golf team in 1988 and 1989, earning All-America and All-Trans Athletic Conference honors in 1988.
Mollye Micak, '12
Ms. Micak played shortstop for the softball team in 2010 and 2011, and was selected as the Great West Conference Player of the Year in 2011.
Courtney Whittleman, '11
Ms. Whittleman was a member of the volleyball team from 2008 to 2011,and was named the Great West Conference Defensive Player of the Year in 2010 and 2011.