On Monday, June 26, 2017, Houston Baptist University was presented a custom designed firefighters commemorative helmet from Local 341 by Patrick M. "Marty" Lancton, President of Houston Professional Fire Fighters Assoc. IAFF 341. This helmet presentation was to thank the University for being the site of the memorial for HFD Captain William "Iron Bill" Dowling on March 15, 2017. Captain Dowling's wife Jacki Willene Dowling is a 1999 graduate of HBU and a former volleyball player for the Huskies.
Charles Bacarisse, vice president of major gifts for the Office of Advancement was in attendance and shared these words; "I am thankful that our team at HBU responded so swiftly to minister to the family of Captain Dowling during their grief. When Marty came to present the helmet, he told us that when he reached out to us, the answer was "yes" before he even asked a question. Watching the service, and Mrs. Dowling's strong words of faith in Christ in that moment, was a tremendous witness for the entire City of Houston. I love seeing HBU talked about in that way."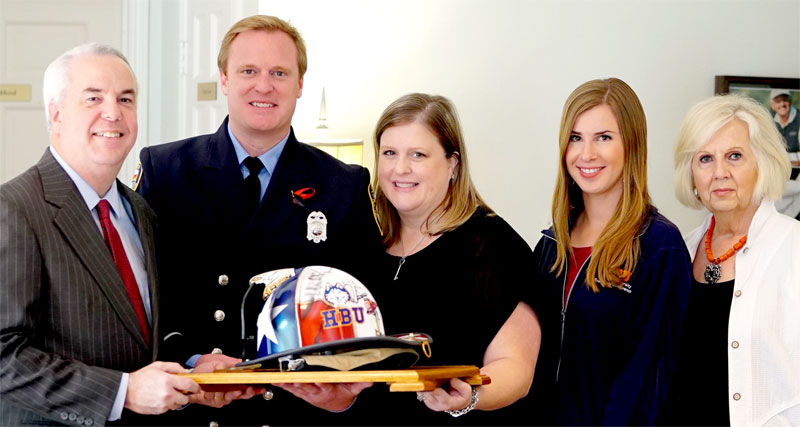 L to R: Charles Bacarisse, Patrick M. "Marty" Lancton, Candace Desrosiers, Sarah Holland, Sharon Saunders.
The helmet is an official Houston Fire Department issue from HPFFA Local 341. It is patriotic with a United States of America flag print covering the helmet. White stars on a blue field in the front. The red and white stripes cover the back and down the bill with a scripture reference written there; John 14:6 which is "Jesus answered, "I am the way and the truth and the life. No one comes to the Father except through me." This scripture verse is also with the crest of HBU. Above the scripture on the back left is the Huskies logo & University crest sitting together side by side, under the logo and crest is the acronym of the University HBU, and the right of the is an illustration of a fallen firefighters monument with a helmet rest on the butt of an ax handle. On the opposite side is the HPFFA crest with the name Capt. Dowling hand painted. Finally, on the crown of the helmet, the name IRON BILL splits the left and right side facing the back of the helmet.