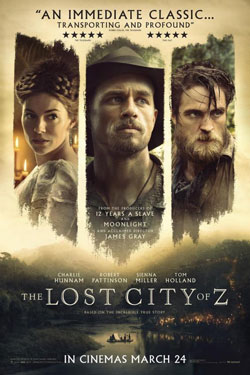 After several days of hacking and wheezing with the remnants of a cold, I was in need of some cinematic therapy, so I ventured out on April 26 to see what I could find.  I was hoping to see two films, but my lungs thought otherwise.  After watching The Lost City of Z, I decided to beat a hasty retreat before an increase in my coughing made me persona non grata.
My parents gave me a subscription to National Geographic for my seventh birthday; ever since my devouring of the first issue, I have always had a weakness for books and films about archaeology and exploration.  This film first the mold of such films as Stanley and Livingston, Mountains of the Moon, King Solomon's Mines, Raiders of the Lost Ark, and Indiana Jones and the Kingdom of the Crystal Skull.
I had to mention the two Indiana Jones films because both have episodes which include our intrepid archaeologist's encounters with hostile Indians who want to fill his body with poisonous arrows shot from blowpipes.  There are similar scenes in The Lost City of Z, but don't expect Harrison Ford or Stewart Granger to come dashing through the jungle fronds.  Heroics are not the order of the day for this story.
The film is based upon the career of one Percy Fawcett who thought he could find the remains of a lost city in the jungles of Amazonia; he made three expeditions into Brazil's Mato Grosso but never found convincing proof. The cast is good, but I did not recognize any of them.  The photography is good, but not extraordinary.  The film is a bit too long, but it also seems to need a bit more exposition.  The members of the Royal Geographic Society are depicted as stodgy racists, but Fawcett's own racism is glossed over.  In the "debates" over advanced civilizations in pre-Columbian America, no one thinks to mention the Aztecs or Mayans, but there is one brief allusion to the Incas and the discovery of Machu Picchu.
Interesting, but not essential.