International diversity and the beauty of cultural heritage were on display November 14-18 with HBU's International Week, hosted by the International Student Organization (ISO) with help from the Student Programming Board. From food to clothing to language and tradition, many students enjoyed the opportunity to share their cultures with their peers and professors.
Shannon Bedo, staff advisor for ISO, said, "At HBU, we use our differences for our benefit and for the good of others. International Week highlights the diversity of the student body and the beauty such diversity brings to our campus through showing off the incredible people and cultures God has made."
ISO held an event every day to highlight the international diversity of Houston Baptist University. On Monday, several students performed cooking demonstrations with French, Kenyan, and Indian food. On Tuesday, HBU students from all walks of life decorated tables with clothing, food, spices, pictures, maps, and flags representing their cultural heritages and for some, their homes, at the International Cultural Fair. Wednesday Convocation featured Scott Phillips from Passages, a program dedicated to connecting Christian college students to the biblical roots of their Christian faith and the modern state of Israel, and International Food Trucks were brought to campus during lunchtime on Thursday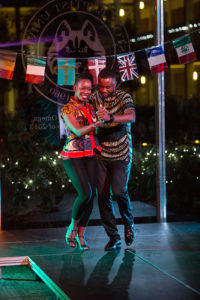 Shelby Tahtouh, president of ISO at HBU, has both Lebanese and Spanish roots. International Week was the craziest and best week of Shelby's year. "I know people from a lot of other cultures and countries have things that they would like to say about their country. Educating people is what we do. We push more cultural diversity, just like the ninth pillar of HBU. We try to cultivate a strong global focus here."
The 2nd Annual International Fashion Show was the week's big finale in the M.D. Anderson Student Center on Friday, November 18. The cultural beauty and uniqueness of 25 different nations was displayed as students walked the HBU runway in traditional clothing from China, India, Romania, Mexico, Somalia, Lebanon, France, Kenya, Philippines, and many more. Several students also performed traditional dances from their cultures. With a crowd of more than 170 people,  ISO raised money to support Children at Risk, a non-profit organization dedicated to improving the quality of life for children. The mayor of Sugar Land, Joe Zimmerman MBA '89, and his wife, Nancy, attended the fashion show as special guests.
Outside of International Week, the International Student Organization helps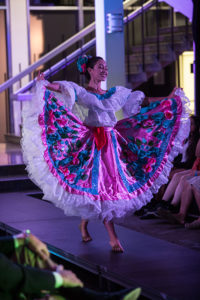 international students acclimate to HBU and provides a place for students to feel at home during holidays and other major events while they are away from their homes and families. The organization hopes to grow and plans to annually host International Week for many years to come.
As a school with no racial or ethnic majority, HBU is an ethnically diverse campus, perfect for learning about cultures and ethnic groups different from one's own. To learn more about attending Houston Baptist University, visit HBU Admissions.
Visit HBU International Admissions for information about international student applications.
If you were intrigued by Shelby's allusion to the ninth pillar of HBU, see Ten Pillars: Faith and Reason in a Great City