Weapons Room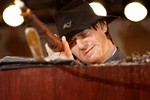 The largest room of the museum displays a variety of weapons and munitions: gleaming pistols; wood and metal bullets of varying shapes and sizes; dull, heavy mortar shells.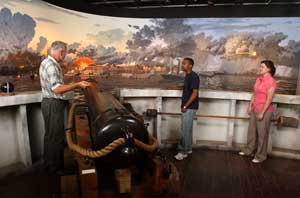 This room also features items carried by Civil War soldiers, the uniform worn by Private Rene Henry Brunet, Jr. and a series of realistic mannequins depicting the life of a Civil War soldier.
Against another wall, a case holds yet another display of weapons—these weapons against disease—the primitive tools available to the physicians of the time. Small glass bottles of tinctures—no antibiotics or pain killers—a large saw, smaller knives and scalpels.
Adjacent to the Weapons Room is a large mural depicting the Battle of Galveston in 1863. This room includes the cannon from the movie, Glory and the bell from the USRC Harriet Lane (1857).