War & American Culture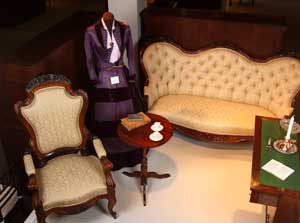 In addition to chronicling the events of the Civil War, the Museum of Southern History also shows the transitions after the war.  The collection includes clothing and Eastlake furniture from the Victorian Era and a Progressive Era crazy quilt.
The final rooms of the Museum include displays of more modern conflicts—a WWI uniform, WWII war bonds posters—and serve to remind the visitor that war has always been an essential part of American culture.
In each display, the contrast between the life of the wife and mother and that of the husband and soldier is evident still. It is only through the sacrifices of both that the country was able to attain peace and prosperity on the home front.