The Schissler Miniature Furniture Collection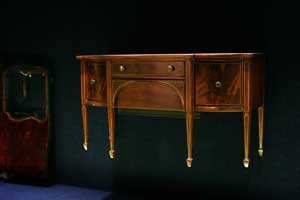 The Schissler Miniature Furniture collection consists of 23 pieces of antique miniature furniture dating back to the 1800s. Since the Middle Ages, the noblemen of Europe had collected and displayed precious small objects, including furniture. These prized objects would became the basis for the earliest museums. Before the 17th century Dutch royalty demanded the finest miniatures for their personal treasures. Their influence spread to England and then to the colonies. In America, artisans produced exquisite examples, both as salesmen samples and for personal pleasure.
In this antique miniature furniture we see prime examples of unique masterpieces which are revealing portraits of life in the past. These works provide excellent social commentary through attention to style, detail, quality and form.