Charles Thomson Bible, 1808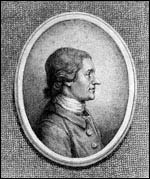 Charles Thomson (1729-1824) made the first English translation of the New Testament published in America and the first translation of the Septuagint into the English language (The Septuagint is the Greek translation of the Hebrew Old Testament made in the third century B.C. This was the translation often quoted by the apostles). Thomson immigrated to this country from Ireland in 1739. When Congress was organized in 1774, he was elected secretary. He held the post throughout the American Revolution and until the adoption of the Constitution in 1789. Thomson spent the next twenty years working on his translation. After copying the manuscript four times, he had it published by Jane Aitken, the first woman to print any part of the Holy Scripture in America. Her father, Robert Aitken, published the first Bible in English ever printed in America in 1782. It is of interest that the name "Cha. Thomson" appears as the signer of the Congressional resolution in the front of the 1782 Aitken Bible.
Cole Reynolds' 2018 Piece of the Past essay winner on Charles Thomson.
| | |
| --- | --- |
| | |