Friends of Dunham Bible Museum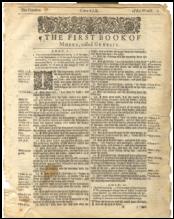 The Dunham Bible Museum Friends is organized to support the programs and collections of the Museum through annual contributions and participation in Museum events. Dunham Bible Museum Friends help spread the word about the exhibits and activities of the Dunham Bible Museum. Friends also have the satisfaction that their tax deductible gift will benefit the Dunham Bible Museum and enable it to achieve its goal of being a premier museum dedicated to the Bible, its message, history, and influence. All Friends will receive year-long benefits of a printed subscription to the Dunham Bible Museum News, invitations to exhibit openings, a membership certificate, and a discount on Museum store purchases.  You can become a member of the Dunham Bible Museum Friends by completing and returning the membership form.
Gifts In Memory or In Honor of an Individual
Donations may be made in honor or in memory of specific individuals. These are perfect birthday, anniversary or Christmas gifts for the person who has everything. A Certificate will be mailed to the honoree notifying them of your gift.
1611 King James Bible Leaf for Donors
The Dunham Bible Museum does have a small number of early English Bible leaves for sale.  These are from portions of Bibles which had fallen into pieces and disrepair, but individual leaves remain in good condition.  A limited number of leaves are available from:
1st edition 1611 King James Bible  – folio size($190 unframed.)
pre-1650 King James Bible  – folio size – ($100 unframed)
pre-1650 King James Bible – quarto size- ($50 unframed)
1610 Geneva Bible  – quarto size – ($50 unframed).
Understandably, all Scripture passages are not available. These make excellent gifts for that special person for a special occasion.
For more information about any of these opportunities, contact Dr. Diana Severance
( 281-649-3287 or dseverance@hbu.edu).
All contributions are tax deductible. Checks should be made payable to Houston Baptist University and mailed to Dr. Diana Severance, Dunham Bible Museum at 7502 Fondren Road, Houston, TX 77074-3298.