Social Studies (4-8) with Teacher Certification
This major provides content-area preparation for students who want to teach social studies in middle school, grades 4-8. It includes the study of history, geography, government, psychology and sociology. These subjects are taught as an integrated whole in middle school, and not as separate subjects as they are in high school. This major requires 39 hours of content coursework, plus what the College of Education requires for teacher certification.
Pre-Education Requirements: 
EDUC 2320 Learning and Development
EDSP 2302 Survey of Exceptional Children
View degree plan: Social Studies (4-8) with Teacher Certification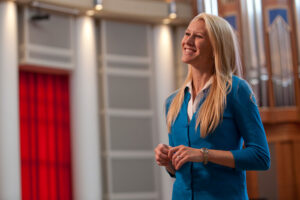 Drawing on the subject-specific training and expertise of our faculty, EDUC 4320 provides subject-specific methods of instruction via textbooks, teaching, and assignments aligned with standards for teacher preparation at the state and national levels. Each assignment and assignment rubric is keyed to state and national teacher preparation standards, and allows for collaboration, feedback, practice in teaching via lessons in the college classroom, and fieldwork in local diverse middle/high schools, and supports learning groups. Students enroll in the course section of EDUC 4320 that pertains to their subject.