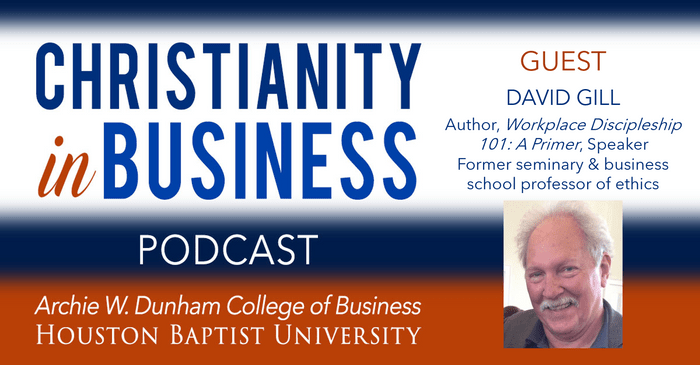 On this episode, David Gill shares his perspective on what it means to make disciples of Jesus in the workplace. 
About the guest:
David W. Gill has served as a seminary or business school professor of ethics for over 40 years. He was also the inaugural Mockler-Phillips Professor of Workplace Theology & Business Ethics at Gordon-Conwell Theological Seminary where he was also Director of the Mockler Center for Faith & Ethics in the Workplace.
Prior to this, he served on the faculties of New College Berkeley (1977-90), North Park University (1992-2001) and St. Mary's College (2004-2010).
He is a graduate of the University of California, Berkeley (BA 1968), San Francisco State University (MA 1971), and University of Southern California (PhD 1979).
He is the author of nine books including a two-volume introduction to Christian ethics: Becoming Good: Building Moral Character and Doing Right: Practicing Ethical Principles (InterVarsity, 2000 & 2004) and a general market business ethics book, It's About Excellence: Building Ethically Healthy Organizations (Wipf & Stock, 2008/2011).
His latest book is Workplace Discipleship 101: A Primer.
He was raised in the Plymouth Brethren, ordained at Allen Temple Baptist Church (Oakland CA) and is a member of Solano Community Church (Albany CA). He has served as Interim Pastor at University Covenant Church (Davis CA) and Trinitarian Congregational Church (Wayland MA) and has been guest preacher or speaker for many churches and campus fellowships over the past 50 years. He has been married to Lucia (Paulson) since 1967. They are the parents of two and grandparents of six.
Links mentioned in this episode: