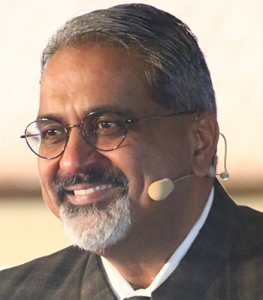 In this episode, Krish Dhanam explains why Christian apologetics is essential for sharing the gospel in the business world, and he explains how to be Christian apologists in our own spheres of influence in the marketplace. 
Krish migrated to the U. S. from India after completing his education. Winning a sales contest earned him a ticket to a seminar by the legendary motivator Zig Ziglar. He joined the Ziglar Corporation as a telemarketer in 1991 and eventually became the vice president of global operations. As one of two executive coaches trained by Ziglar, he has delivered his message of hope, humor, and balance in over sixty countries and throughout the U. S. His client list includes the who's who of global enterprise including EDS, Texas Instruments, Christian Dior, Steelcase Industries, PepsiCo, and the United States Army.
He is the author of The American Dream from an Indian Heart, From Abstracts to Absolutes and contributing author to the book Top Performance written by Zig Ziglar. His latest book Hard Headed Soft Hearted co-authored with Rick Belluzzo (former President of Microsoft) is being used as culture-transformation curriculum globally. Krish also acts as the Global Corporate Adjunct for Ravi Zacharias Ministries and sits on the board of The Skypass Foundation.